Chieftan
Staff member
tribal-elder
Joined

Oct 9, 2012
Messages

4,708
Some stuff I've been turning over in my head lately.
When I started Girls Chase in 2008, it was to bridge the gap between seducers, who had a lot of great hard tech, mindsets, and processes that was really effective at getting girls, and regular guys, who were all stuck hanging out in the friend zone, trying to get girls in their daily lives inch-by-inch, meanwhile feeling like cold approach was way too hard, too much work, probably a scam/didn't work, and unlikely to be at all effective.
So the whole thing for me for years was about leading guys away from this step-wise mindset toward women in their regular lives, toward taking some risks and building their confidence and meeting women in real life instead. I think a lot of guys in the PUA world had this mindset of "lead guys away from the friend zone toward seduction", if they were at all focused on working with new guys.
But these days, every guy knows the friend zone is a trap. There've been a million movies about it, a billion memes, a hundred thousand crying Reddit posts; guys worked through the anger, they figured out they aren't going to get anything hovering around in the friend zone waiting for table scraps, and nobody does it anymore.
Instead, all the guys who used to hang out in the friend zone started using apps.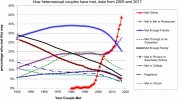 Girls Chase was doing great until around late 2018, early 2019, when all of a sudden everything started breaking all at once. Guys became a lot more resistant to buying products, traffic started falling, advertising costs shot up. I was trying to figure out what it was -- but it was like this collective shift in the market where stuff that guys wanted in the past they suddenly didn't want anymore.
The whole positioning of our flagship product, One Date, is basically "here's how you can get girls from your day-to-day life. Here's a way you can get that girl you're crushing on and make her into a girlfriend. Or you can use it to shag a bunch too. It works for regular guys and it works for playboys."
But it's gotten progressively more and more expensive trying to sell One Date to advertising traffic. It's like 3-4x more expensive today than it was 2.5 years ago. Guys coming from Girls Chase also buy less. There are plenty of other niches where advertising costs have gone up, but not really that much. Anecdotally, many of the big players in the men's dating advice niche got out a few years ago; there's been talk of changing tides for years.
The impression I keep getting is that what we are selling is off the mark for what guys are looking for now.
Now we get guys saying stuff like, "Does this work for apps?" or "I wasn't satisfied with this. There's not enough about apps in it."
Increasingly it feels like telling guys, "Look, don't be hovering around in the friend zone, that doesn't work. Do this instead: I know it's scary but it works a lot better," is missing the mark.
Instead it feels more and more like I'm finding myself telling guys, "Look, don't be hovering around on these apps, that doesn't work. Do this instead: I know it's scary but it works a lot better."
As I do our marketing, I'm finding more and more of the stuff I'm making is basically reinventing the way I used to market, which was "Here are a bunch of epiphanies about why the friend zone doesn't work and cold approach is so much better" to, instead, "Here are a bunch of epiphanies about why dating apps don't work and cold approach is so much better."
App guys have the exact same critiques of cold approach friend zone guys used to have: it's too hard, it wouldn't work for me, it's all a scam, etc. etc.
You have guys who are getting results with apps. But you also always had guys getting results from friend zone / friend groups back in the day. Years ago there would always be guys saying, "The friend zone is GREAT if you know how to work it right," or, "I sleep with girls all the time from the 'friend zone'. The friend zone is an awesome place to be." And the majority of guys running friend zone game were also getting laid sometimes... just usually not with their top choice girls. Which is what you see with apps (are there any app guys who'd tell you "I get girls who are SO much hotter and better girlfriend quality on apps than I could ever meet in real life"? That is one thing you used to hear at least occasionally from social circle guys that I don't think you ever really hear from app guys these days...).
You get some cold approach seducers also using apps. Just like you always had some cold approach seducers shagging girls from their friend groups.
I don't know. More and more to me, it is beginning to seem like guys have shifted over from hanging out in the friend zone not getting laid to hanging out on apps not getting laid. Their objections to PUA are the same. However, you're missing the mark these days if you're still talking about "here's how to meet that cute girl you always see" or "here's why that girl you like isn't going to get together with you you just hanging around waiting and hoping." Guys aren't really doing that much anymore -- instead they're just swiping infinitely, following women on Instagram, sending them gifts on Twitch, Only Fans, cam girl sites, etc.
Am I wrong that "
the friend zone of 2021, i.e. the place most guys are trapped in, not getting laid, thinking there's no alternative is dating apps
"?
Chase