Chieftan
Staff member
tribal-elder
Joined

Oct 9, 2012
Messages

3,316
Hey fellas,
We're kicking off a new project headed up by Varoon, that came out of a brainstorming session between him and Franco and Alek on how to make Girls Chase easier to navigate. (I forget if the original idea was Franco's or Varoon's, but Varoon's take ownership and sketched out how this thing will look, and it looks awesome)
The basic gist of it is we have tons of articles, but because there are so many a lot of good ones get lost in the mix. It's also very hard for guys to find the specific articles they'd like to read.
So what this project proposes is to organize articles into learning tracks.
I'm real excited by this idea. I think it's an excellent, brilliant idea.
Here's how it works:
For instance, say you want to learn social circle. You'll click on the Social Circle Track. A menu slides over on the left side of the screen, showing you a ladder with 10 rungs. You start out at Rung 1: Getting Started with Social Circle. There are four articles to read there. This makes it easy to focus on beginner level social circle stuff, then move to the next rung when ready, then the next, etc.
Here's a mockup of what this looks like on the site (courtesy Varoon):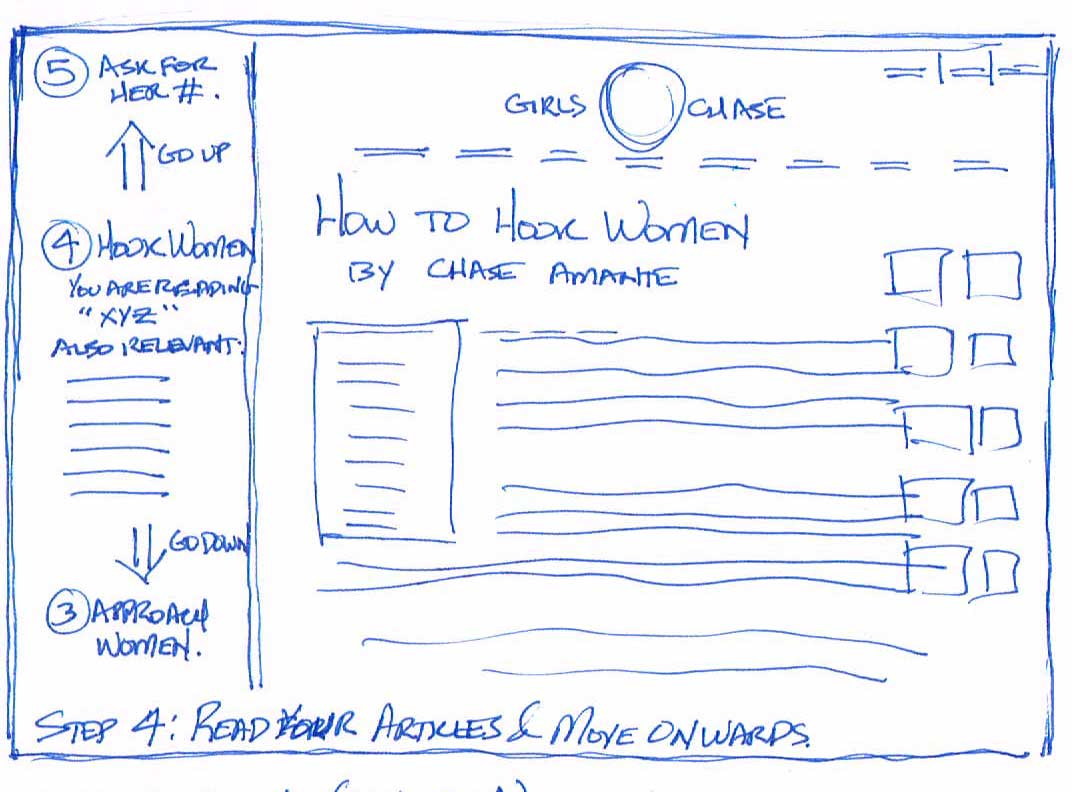 You can see the ladder on the left. Rung #4 in this track/ladder is "hook women" and it has "You are reading XYZ article" and an "Also relevant" list of six related articles on that rung.
We'll have neat little icons for each category to make it more visual and fun, etc.
HOW YOU CAN HELP
Obviously we want to cover important tracks/ladders, like:
Date Track (how to get a date)
Phone Track (how to text, how to call)
Conversation Track (how to talk to a girl)
Flirtation Track (how to flirt, banter)
Fundamentals Track (how to be sexy)
Confidence Track (inner game)
Nonverbal Communication Track (gestures, body language)
One-Night Stand Track
Day Game Track
Nightlife Track
Social Circle Track
Get a Girlfriend Track
Create Harems Track
Sex Track (orgasms, oral sex, etc.)
Casual Relationship Track (FWB)
Long-Term Relationship Track (LTRs)
Marriage Track (screen for a wife, JJ's Modern Marriage series, divorce rape)
Open Relationship Track
Etc.
What we'd like to know from you is are there any important tracks you think we need to include that you do not see in the list above?
Is there a track you'd really like to see us organize articles into? Topics you enjoy reading about and would like to see in ladder form?
We're going to use this thread to help figure out stuff we've missed - I'm betting there are at least a few major subjects Varoon and I haven't already thought of guys can point to and we'll say "Ohhh yeahhhh, we definitely need that as a track on there!"
If you have additional tracks you'd like to see, or any other thoughts or suggestions, please post 'em here. All your thoughts are invaluable and will be a big help to get GC more organized and more easily navigable for readers new and old alike.
Chase